Assignment 4 – Dice
Goals
Connect LEDs to Argon

Use push button for analog input

Use built-in libraries to generate random numbers

Use C++ arrays
Overview
This assignment is to create an electronic die. When a button is pressed, the die will be "rolled" and a new value will appear. The die roll will be simulated by generating a random number 1-6
Here is a video overview about the assignment and the extra credit: https://youtu.be/RqrFVTAiY8g
Here is an example: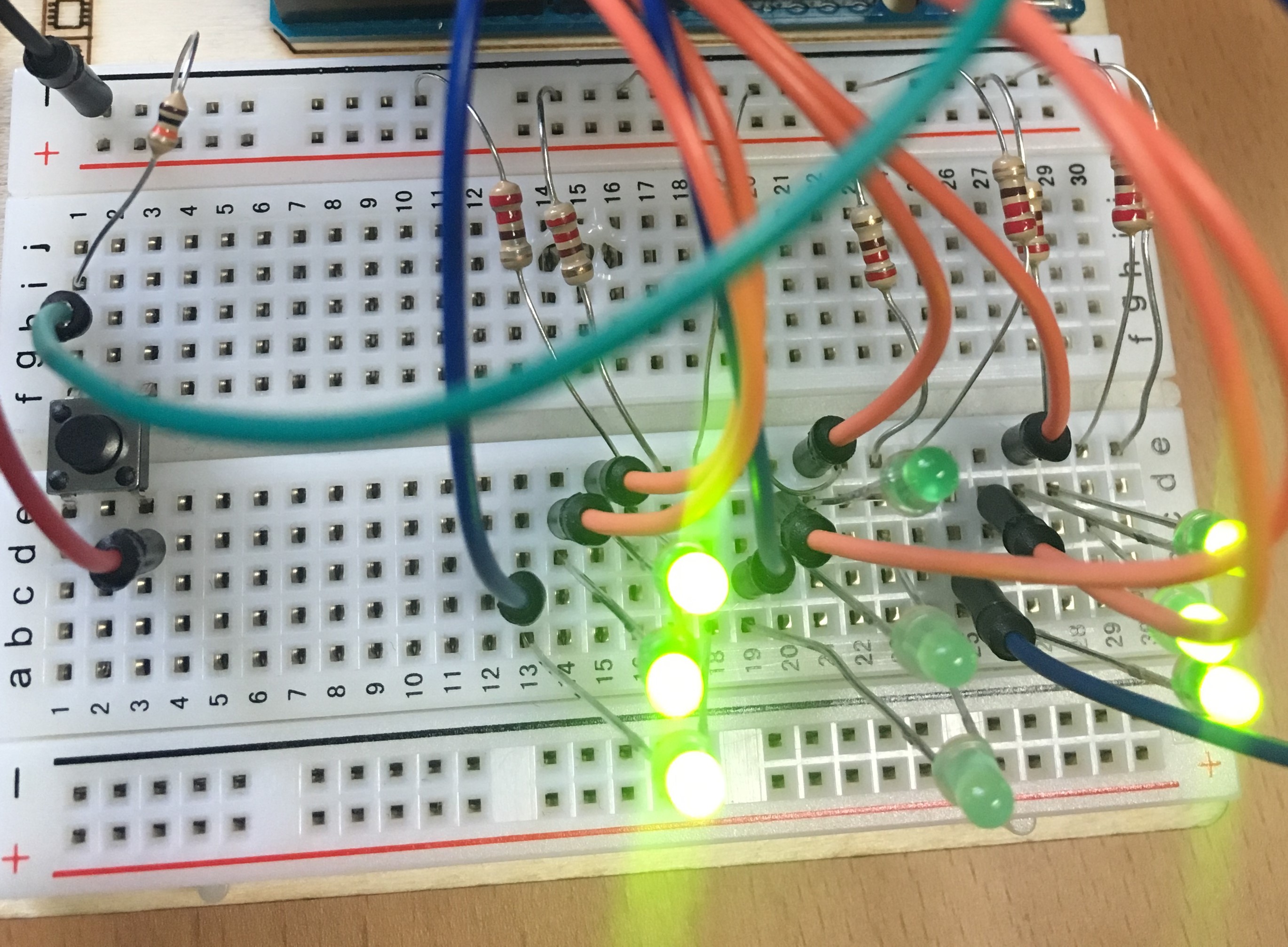 The die value can be represented by a 3x3 grid of LED lights as follows:

Components
Argon

Breadboard

9 x LEDs

9 x resistors (what value should you use?)

1 push button

Jumper wire (standard header-header)
Requirements
Create a Fritzing breadboard prototype layout of your design
Once you're satisfied with the design, connect the device
The push button should be configured as a latch (i.e. pressing / holding the button only rolls the die once)
==Extra credit: Arrays==
Store the light pattern (on/off) for all six possible die rolls as an array. This can be done as a represented as a 3x3 matrix (2 dimensional array). However, an easier way to think about this is as a 9-element array
For example, the die roll of two looks like this
We can think each of the possible nine points on a 3x3 grid
Each of these possible points can be thought of as an index in an array
Each position of the array will represent the state of the corresponding LED (HIGH or LOW)
Hint #1: It will be easier to create another array to store the which Argon pins correspond to each LED. Then you can use a for loop to quickly turn lights on
Hint #2: Check out this resource on generating random numbers in Arduino
**Naming convention **
(replace # with the current assignment number)
Project Name: itp348_a#_lastname_firstname

Zip File (project folder): itp348_a#_lastname_firstname.zip
Video Submission Checklist
To receive credit, your submitted video must clearly demonstrate the following:
Pressing button make light configuration change
Pressing button makes a new random die value display. Push the button at least 6 times
Deliverables
Fritzing layout file

A compressed file containing your project. Follow the guidelines for full credit.

Here are the instructions for submission

Navigate to your project folder.

Include the entire folder in a zip file

Rename the zip file based on naming convention

Upload zip file to Blackboard site for our course

A photograph of your device connected to USB with the blue light on.

A video demonstrating your project functioning (either upload this to separate from the zip file, or upload to YouTube / Google Drive / Dropbox and provide the link in your submission).
Grading
| Item | Points |
| --- | --- |
| Fritzing layout | 5 |
| Components |   |
| 9 LEDs connected correctly | 5 |
| Button wired correctly | 5 |
| Button press changes lights | 15 |
| Extra Credit |   |
| 6 Die LED patterns stored as arrays | +3 |
| LED pin label constants stored in array | +2 |
|   |   |
| Total | 30 |
Credits